Relational Leadership Speaker Jack Zoellner For Your Next Event
Are your employees not happy at work and you don't know why?
Do your contractors prioritize other projects before yours?
Are you losing your people to your competitors?
Move from Losership to Leadership with relational leadership speaker Jack Zoellner.
---
---
What's Changed in Management Today?
Jack says, "Nothing has changed! And, that's the problem."
Supervisors, managers, CEOs and entrepreneurs alike have been managing their help using the same command and control tactics developed more than 100 years ago. Their lack of growth and sustained profitability reflects their reluctance to explore and embrace new techniques.
But, it's not their fault. Methods for dealing with employees taught in business schools are outdated and fall way short of today's enormous employee diversity and workers' high expectations of their employers. Adding foosball tables, flextime, health benefits are helpful peripherals, but are just not enough anymore to fully inspire workers.
---
Become the Company Everyone Wants to Work for
The few companies recognizing the problem and implementing the correct leadership solution, through Jack's help, can retain their workers longer and become the competitor everyone wants to go to for employment.

Click the Photo Below for Jack's Complete One-Sheet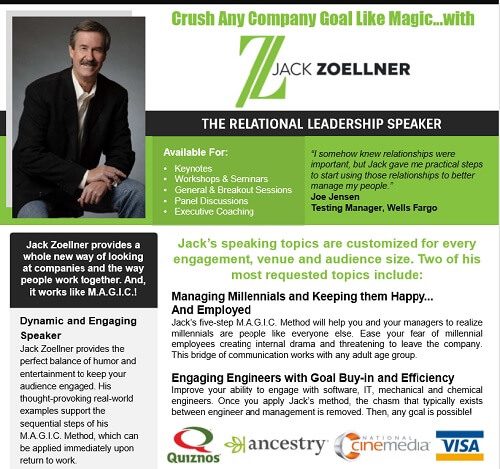 ---
Relationship Speaker, Jack Zoellner, Provides the Leadership Solution
Jack's core presentation demonstrates how leaders today should pay attention to the kind of people they employ and seek. Most business schools do not understand that at all. They teach management as a means for controlling workers and treating them as assets as if they are tables and chairs to be moved around as needed. Even the departmental phrase Human Resources reflects a company culture supporting command and control practices. The exact opposite is what companies need to do in today's international competitive climate.
In his presentation titled, People Management Skills They Don't Teach You in School, Jack introduces modern day management techniques while the audience observes his proven method in action from the stage.
---
Not Another Program but a Movement for Any Industry
Jack's core message is not a training program or another attempt at reviving the complexities of the failed TQM approach to corporate overhauls. He presents a new way of thinking and a method for dealing with employees that can be started immediately, often even before Jack has left the stage!
Just imagine an entire workforce being excited for their work! The results are obvious:
Internal people conflicts resolve.
Employee retention improves.
Operation costs decrease.
Sales increase.
Profits grow.
The company expands.
Jack Zoellner provides a whole new way of looking at companies and the way people work together. 
And, it works like M.A.G.I.C.!
---
Customized Presentation for Any Audience
Jack's presentation can be modified for a variety of audience types including the following:
Managing Millennials and Keeping Them Happy…and Employed – Managers consumed with fear of their millennial workforce creating internal drama and threats of leaving the company to work for a competitor will realize millennials are people just like everyone else. Jack's M.A.G.I.C. Method provides a bridge of communication that works with any age group.
Engaging Engineers with Goal Buy-in and Efficiency – Often a bigger challenge than managing millennials is when managers try to engage with software, IT, mechanical and chemical engineers. Although a chasm typically exists between engineer and management, Jack's method works the same.
Supporting Sales Managers to Sell – Sales directors often feel like managing their sales managers and sales reps is like herding cats. Command and control management is the dominant technique used in the sales industry as a result. Even in the sales arm of the company, Jack's method can help to produce phenomenal results quickly with just a few tweaks to his core message for that audience focus.
Empowering Entrepreneurs to Build Power Teams – A typical one-person business can only take on a few clients before working 18 hours a day to fulfill commitments. Soon, the solopreneur hires contractors to complete tasks and eventually grows his business by recruiting a team of helpers. Perhaps no other industry has a higher need to hear and embrace Jack's leadership practice.
---
"People Don't Quit Companies…They Quit Bosses"
– Jack Zoellner
Jack's presentation reveals the one thing managers never think about that would really help their managers to produce positive results in their areas of responsibility. He gets to the heart of the matter while interjecting insightful takeaways the audience will retain in their memory for months to come.
Audience members routinely approach Jack after his sessions citing his use of just the right mix of humor and audience involvement to stay focused. They feel like their time was well spent learning his step-by-step instruction and eager to put them into use.
Most importantly, Jack learns the audience in advance of every presentation so that he can approach them during the talk as if they were his own employees. The audience, in turn, returns to their place of work enabled to use the same approach when met by their employees.
Very simple, very straight forward and revolutionary.
That's where the M.A.G.I.C. begins!
---
High Resolution Photos of Speaker Jack Zoellner for Your Event Promotion
Click the Thumbnail Below and then Right Click to Save Jack Zoellner's high res photos. Each high res photo is up to 4Mb in size. You are authorized to use his photos for web and print promotion for any event for which he is presenting.
"The real life examples from our industry in your presentation brought a great perspective on the value of great leadership. With your experience and great preparation our members are better prepared for those leadership challenges."
Gus Brown, FleetPros Colorado Chapter
"Jack makes relationships look easy and they are with his practical tweaks to my day-to-day interactions."
Oletta Stanberry
"I somehow knew relationships were important, but this gave me practical steps to start using it with my people."
Joe Jensen
"As a 20-year owner of a small services business, I employ helpers on a contractor basis and often only interact with them by email and instant messenger. Jack's presentation helped me realize the importance of engaging with my help on a far more personal level than I have in the past and I saw immediate results in speed of work completed and quality of work submitted after only a few interactive conversations using Jack's method."
Marty Dickinson, HereNextYear.com
"Jack is spot on when he says that people don't quit jobs.  Great leaders have great teams but if that leadership isn't great all the way up even a great leader can leave when they have a boss they want to quit.  They don't abandon their team, they leave poor leadership or as Jack says – they quit their boss."
Bill Schoonmaker
"I've always struggled knowing how to help give others direction. After working in Jack's seminar though, it gave me actionable points to focus on and work with. By learning these basics it was a short leap to applying them to my interactions with others."
Keith Ellington
"What we ALL need is more Jack Z's in this world with his M.A.G.I.C. method. We would all be much happier and more productive and would still get the work done – but with a smile on our face and with a feeling of pride, not relief, that it is finally over. Thank you Jack Z!!!"
Kimberley Eve